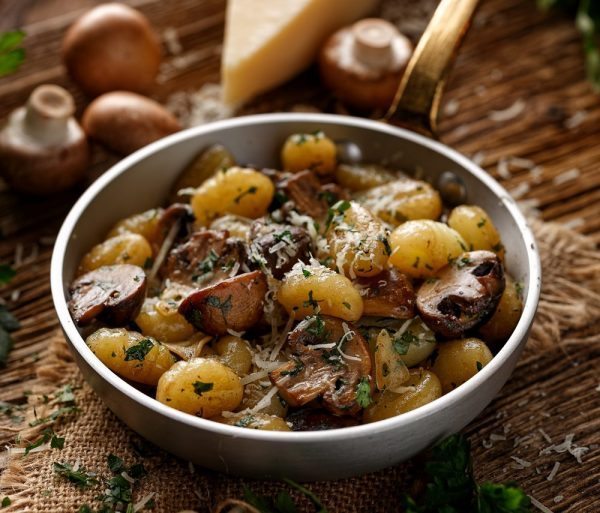 March 9, 2017
Foch Braised Mushrooms with Potato Gnocchi
For the mushrooms:
2-3 lbs. assorted "meaty "mushrooms (sliced such as king oyster and Portobello)
2 shallots, sliced
1 clove of garlic, minced
1 ½ cups red wine (suggested: Old Vines Foch or Pinot Noir)
1 Tbsp. fresh thyme
2 Tbsp. unsalted butter
2 Tbsp. heavy cream
In a skillet large enough to hold all the mushrooms, add some butter and sweat shallots and garlic. Remove from pan, set aside, add mushrooms and the rest of the butter and cook till they begin to soften.
Add the red wine and the cooked shallots and garlic and reduce by ¾, then add cream. Set aside.
For the Gnocchi:
2 lbs. of cooked Russet potatoes put through a ricer and kept hot
1 egg, mixed
2 ¼ cups flour
1 Tbsp. mixed fresh herbs (i.e. oregano, thyme, parsley)
Olive oil
Have a pot with salted blanching water hot on the stove.
Mix all the ingredients together and keep warm. Sprinkle a little flour on a work surface. Take a portion of the mix at a time and roll out into a long roll. Cut one inch pieces and blanch in the boiling water until it floats remove and toss in olive oil and cool flat on a tray. Repeat until all the gnocchi is cooked.
To assemble:
In a medium to hot skillet, add a little olive oil and sauté some gnocchi to get a little colour. Add mushroom mix and heat through.
Serve in a bowl with some freshly shaved Parmesan alongside a glass of Quails' Gate Old Vines Foch or Pinot Noir.