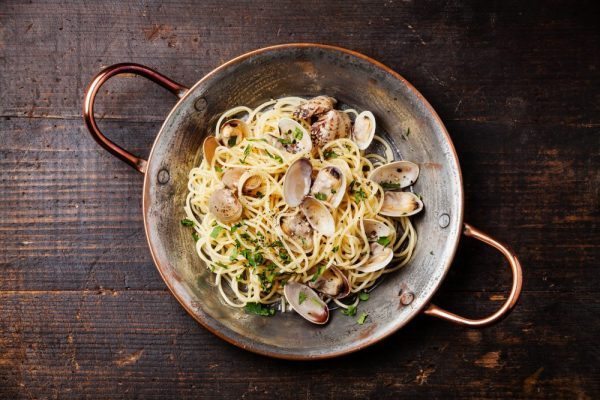 March 8, 2017
Linguine Clam Vongole
This is a simple yet very satisfying and classic recipe that is sure to please as a mid course or a full meal.
Serves 4
2.5 lbs fresh Manilla Clams
2 cloves garlic, chopped
1.5 cups white wine
1 bunch Italian flat leaf parsley, chopped
1 Tbsp dried chili flakes
1 lb dried linguini or fresh if available
¼ cup Extra Virgin Olive Oil
Kosher Salt to taste
Under running water purge clams in a bowl to remove any sand that might still be inside. Discard any clams that are open.
Fill large pot with salted water and bring to a boil to cook pasta al dente.
Meanwhile combine oil, garlic & chili flakes in a large pan and sweat until garlic begins to lightly brown. Add white wine, clams and cover. Increase heat to a boil checking for clams to open. Remove opened clams and set aside.
Add cooked pasta to sauce along with a 1/3 cup of the pasta cooking water. Toss until it starts to absorb the sauce, then add in clams, olive oil, chopped parsley and season with salt. Toss and serve immediately.
Alternatively you can remove clams from shells before adding back into pasta.
Optional ingredient is to add in some quartered cherry tomatoes before adding in the pasta.