February 16, 2022
Committed to Sustainability
Pictured: Ed Tonner, Senior Viticulturist
As a family-owned business that spans three generations and more than a century of farming in the Okanagan Valley, we are committed to continuous improvement and cultivating respect for the land on which we operate. We take great responsibility in preserving our environment's beauty and health for future generations to enjoy.
Our dedication to sustainability means we consistently apply best practices and ensure prudent use of resources. We have a long-standing tradition of using low-impact approaches to viticulture and our philosophy is to do more with less, employing a holistic ecosystem management approach to grapegrowing.
We are proud to have recently had our vineyards certified sustainable by Sustainable Winegrowing B.C. (SWBC). SWBC Certification is a made-in-BC program that leads the way in sustainable winegrowing practices and sets a standard for the province and rest of the country. The certification process is a progressive one: small changes made in both the vineyard and winery each year add up to full certification.
We caught up with our Senior Viticulturist, Ed Tonner, to find out more about the certification and why sustainable winegrowing is so important.
What is sustainable winegrowing and why is it important to Quails' Gate?
Being a sustainable winegrower means that we are producing high-quality grapes and wines, while being stewards of the land we operate on. We are privileged to grow grapes in one of the most stunning places in the world, so by using environmentally responsible practices we help protect the soil, the air and the water around us and ensure these natural elements are preserved for future generations to enjoy.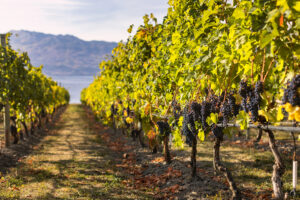 What are some of the ways in which we farm sustainably?
Some of the ways in which we farm sustainably include:
Remote vineyard monitoring stations allow us to target responsive treatments
Optimizing drip irrigation: conserves water by reducing the amount used within the vineyard, helps meet the grapevines needs, ensures fruit quality and enhances the use of labour.
Use of a variety of cover crops such as clover and rye benefit the microclimate and the vines.
Implementation of a nutrient management system to minimize the risks of environmental degradation and contamination, meet crop needs and advance production yields. Our soil conditions are enhanced through best practices including our in-house compost program reducing the use of synthetic nitrogen fertilizers.
Increased equipment efficiencies help minimize our environmental footprint, increase worker health and safety, ensure business longevity and reduce negative impacts on neighbours and local communities.
Water conservation equipment upgrades with new Verdi system.
Setting up natural filtration throughout the vineyard to reduce runoff while maintaining our watershed management activities.
Why is the Sustainable Winegrowing B.C. certification so important?
The Sustainable Winegrowing B.C. certification is a symbol of our commitment to environmental responsibility. It holds us accountable as a winery by giving us the tools to review and assess our practices regularly to find opportunities for continued improvements and innovative approaches to farming responsibly.
It also reassures those enjoying the wine that we are doing everything we can to reduce the impact of our operations on the environment and ensure we are providing not only a quality product, but an environmentally responsible one as well.
In addition to the recent certification of our vineyard operations, our commitment to sustainability extends into other areas of our business. Our composting program in the winery, restaurant and offices diverts more than 150 pickup truck loads of yard waste to our compost pile annually. Biodegradable plastic bags, eco-friendly paper bags and reusable cloth bags are used in our Wine Shop. All lighting in our offices and on the property is motion-activated, while supplemental outdoor lights and water features are timed to only come on when needed. Continued improvements like these get us closer to completing the SWBC certification for all estate operations beyond our vineyards.
As part of our ongoing commitment to sustainability, we've also partnered with Ocean Wise to ensure the seafood along with proteins served in our restaurant are ethically caught and raised. We also have a long-standing partnership with Nature Conservancy of Canada with the goal of helping protect the fragile ecosystems of the Okanagan Valley and to protect our natural grasslands and water systems.