October 4, 2019
Autumn Wine Package
6 Wines to Celebrate the Fall Season
Fall has arrived. Celebrate the abundance of freshly harvested fruit and vegetables with friends and family by enjoying these Quails' Gate winemaker curated selections. An array of delightful whites and light to medium bodied reds are the perfect complement to the cooler weather and fresh harvest foods. Your Harvest wine package includes:
2018 Quails' Gate Gewürztramimer
2018 The Bench Pinot Gris
2017 Quails' Gate Chardonnay
2017 Quails' Gate Pinot Noir
2017 Quails' Gate Merlot
2018 Optima Late Harvest Botrytis Affected Optima
6 Autumn Wines: $160
Choose to "Reserve it"
Substitute our Quails' Gate Chardonnay and Pinot Noir for our Stewart Family Reserve wines – $200   
---
Nothing pairs better with a selection of Harvest wines than a meal prepared specifically to go with them. Try this recipe from our chef, Roger Sleiman and team, to round out the perfect fall evening.
Grilled Ribeye of Angus Beef (Serves 4)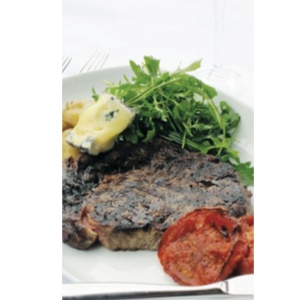 Truffled arugula salad and fingerling potatoes, roasted tomatoes, Tiger blue cheese
4 x 10 oz well marbled Ribeye steaks
2 lbs fingerling potatoes
4 tomatoes
2 sprigs fresh oregano chopped
4 x 1 oz Tiger Blue cheese
White truffle oil
½ lb baby arugula
Salt & pepper
Preheat oven to 400 F.  Turn on grill to high. Remove steaks from fridge and allow to come to room temperature. Halve the tomatoes crosswise and sprinkle with salt, pepper, olive oil and oregano. Place on a sheet pan with a rack and roast until some of the moisture has evaporated, about 20 minutes. Toss potatoes in olive oil and freshly ground pepper. Toast until fork tender, approximately 45 minutes.
Season steaks with a good dose of salt & freshly ground black pepper. Grill meat until desired doneness, top with blue cheese and let rest for 3-4 minutes. Meanwhile, toss arugula with truffle oil, salt & freshly ground pepper. Assemble plates with all the components (potatoes, tomatoes, arugula & steaks. Enjoy.
---
AUTUMN WINE PACKAGE TASTING NOTES
2018 QUAILS' GATE GEWURZTRAMINER
On the nose, pronounced notes of lychee, rosewater and pear. The wine is off-dry on the palate with flavours of grapefruit, papaya and citrus, with a touch of ginger spice on the finish. Pairings:  A versatile Thanksgiving food wine, this wine is not only a perfect as a pre—dinner sipper, but also pairs well with roasted turkey, or exotic dishes that you may choose to compliment your harvest table such as Moroccan vegetable curry.
2018 THE BENCH PINOT GRIS
One of our newest Fall releases, this Pinot Gris displays floral and bright aromas of lemon, juicy ripe pear, peach, red apple and citrus. Medium bodied with rich, round flavours and ripe orchard fruits with a hint of creaminess balanced by zesty Meyer lemon for a lengthy finish. Pairings: Perfect for autumn creamy root vegetable soups, roasted cauliflower or your favourite roast turkey or spiced pork recipe.
2017 QUAILS' GATE CHARDONNAY
Chardonnay is our signature white grape at Quails' Gate and this wine is made using a blend of stainless-steel tanks and older oak barrels. Pale lemon in the glass; expect aromas of ripe orchard fruit such as apple, pears and white peach with notes of brioche, vanilla and clove. Pairings: Sip alongside a harvest butternut squash soup or creamy cauliflower or mushroom soups before your main course.
2017 QUAILS' GATE PINOT NOIR
This Pinot Noir is an expressive combination of bright juicy red berry fruit, violets, cloves and savoury dried herbs. Medium in body, the wine has a balance of fruit and acidity with polished tannins and a long, lingering finish. Pairings: Pair with baked ham, roast turkey with brioche stuffing, roasted squash risotto, seared venison or braised pork with wild rice and roasted root vegetables. We recommend serving at around 15°C.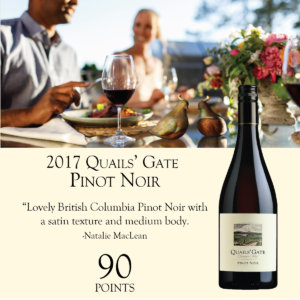 2017 QUAILS' GATE MERLOT
Extended sunlight without intense heat spikes in the 2017 growing season presented balanced fruit flavours and wines that will age well in years to come. Rich, dark fruit mingles with chocolate, dusty spice and sugar plum. Warm, fine grain tannins and a lengthy finish complete this elegant full-bodied Merlot. Pairings: This wine shows well with roasted pork tenderloin or a crown roast. Makes a terrific accompaniment for your favorite sausage or wild mushroom stuffing recipe.
2018 BOTRYTIS AFFECTED LATE HARVEST OPTIMA
This wine is decadent and complex.  Pronounced and bright notes of peach, apricot, orange zest, stone fruit and almonds.  Lusciously sweet and beautifully balanced with vibrant acidity and a long, citrus finish.  Pairings:  Peach cobbler, pumpkin pie, grandma's favorite cheese cake, blue cheese or a rich a pâté, such as foie gras.
______________________________________________________________________________________
RESERVE IT
2017 Stewart Family Chardonnay
A bright, rich and creamy Chardonnay bursting with vibrant orchard fruit, dried sage and an elegant buttery charm. Serve slightly chilled (10 to 12° C), slightly warmer than most white wines to fully enjoy its depth and complexity. Pairings:  Rich seafood dishes, such as lobster with butter or shellfish bisque, beef tartare with parmesan or baked ham studded with cloves.
2017 Stewart Family Pinot Noir
Expect an inviting mix of ripe red fruits, such as cherry, raspberry and cranberry that lift the palate, along with undertones of earth, allspice and clove. Pairings: Duck, turkey, pork, seared BC salmon and rack of lamb served with a ragout of French lentils.