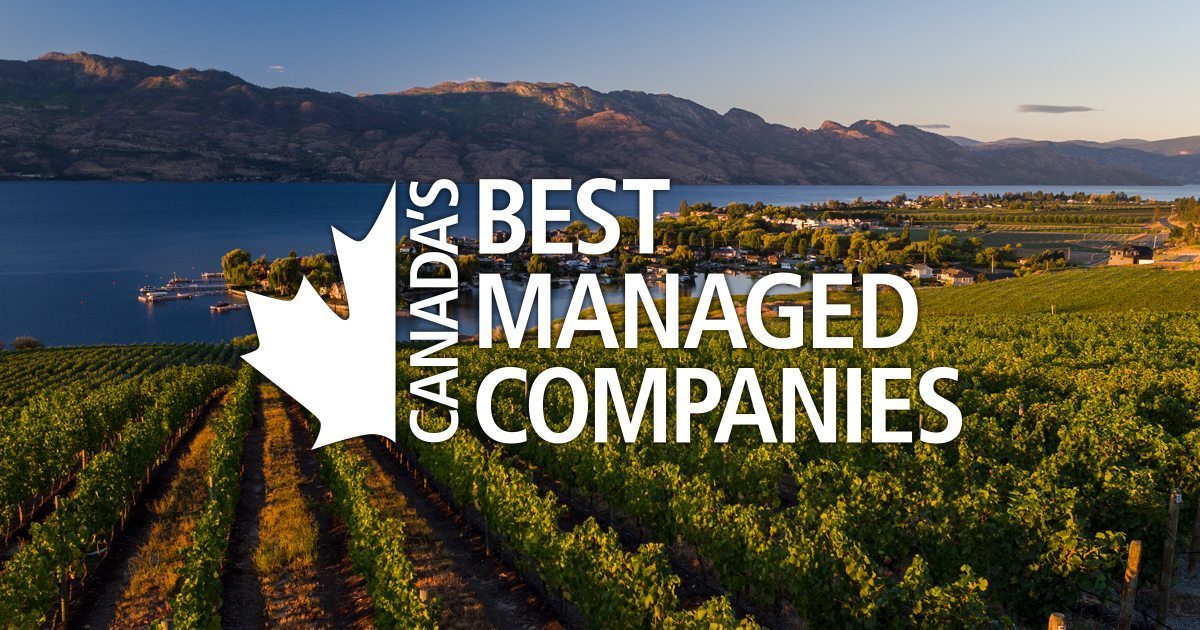 March 9, 2017
Quails' Gate Winery Named One of Canada's Best Managed Companies
Media Release:
A pillar in the Kelowna business community for over 25 years, Quails' Gate Winery is honoured to receive the prestigious Canada's Best Managed Companies designation. The 2017 Best Managed program recognizes the best-in-class of Canadian-owned and managed companies with revenues over $15 million demonstrating strategy, capability and commitment to achieving sustainable growth.
"We are absolutely thrilled to be recognized among such renowned businesses across the country," remarks Quails' Gate's CEO Tony Stewart. "From the beginning, our family has always strived to not only be good stewards of the land and our community, but to also create exceptional wine and culinary experiences for our guests. We are extremely proud to have such an incredible team that has been able to execute our family's vision and reinforce our reputation as one of Canada's leading family-owned estate wineries."
As one of the original estate wineries in the Okanagan, Quails' Gate and the Stewart family have helped shape the development of the wine industry in Canada for over 50 years by taking a collaborative approach to build and promote the wine industry both nationally and internationally. This approach positioned Quails' Gate as a respected, knowledgeable and pioneering winery with strong support from the community, and was one of the defining principles that led to its recognition as one of Canada's Best Managed Companies.
This year, only 45 companies across the country received this prestigious recognition. "It's much more than just financial performance," said Peter Brown, Partner, Deloitte and Co-Leader, Canada's Best Managed Companies program. "The ingredients to success also include overall business performance and sustained growth. It takes dedication and commitment from the entire organization."
Established in 1993, Canada's Best Managed Companies is one of the country's leading business awards programs recognizing Canadian-owned and managed companies for innovative, world-class business practices. Applicants are evaluated by an independent panel made up of judges from Deloitte, CIBC, Canadian Business, Smith School of Business and MacKay CEO Forums. Best Managed companies share an emphasis on culture and people, innovation, sustained performance and strong financial results.
2017 winners of the Canada's Best Managed Companies award will be honoured at a gala in Toronto on April 19, 2017.
For more information about Quails' Gate and the Stewart family, visit QuailsGate.com.
Media contacts:
Lindsay Kelm
Communications & Marketing Manager
P- 250.769.4451 ext. 268
C- 250.718.2070
About Quails' Gate Winery
As one of Canada's foremost family owned and operated estate wine producers, we are dedicated to crafting outstanding quality wines and creating memorable wine and food experiences for our guests. With our award-winning restaurant, luxurious lake front accommodations and a variety of tour and tasting experiences, we look forward to helping our guests create their perfect Okanagan moment.  QuailsGate.com
About Canada's Best Managed Companies
Canada's Best Managed Companies continues to be the mark of excellence for Canadian-owned and managed companies with revenues over $15 million. Every year since the launch of the program in 1993, hundreds of entrepreneurial companies have competed for this designation in a rigorous and independent process that evaluates their management skills and practices. Program sponsors are Deloitte, CIBC, Canadian Business, Smith School of Business and MacKay CEO Forums. BestManagedCompanies.ca