On Tuesday, June 20, Quails' Gate Winery hosted a unique event aimed at recognizing the remarkable quality of Okanagan Valley Chardonnay. A panel of esteemed wine journalists and wine professionals were invited to partake in a blind tasting, meticulously evaluating and benchmarking Okanagan Chardonnay from the 2019, 2020 and 2021 vintages against some of the finest examples from around the globe, including Quails' Gate's own Stewart Family Reserve Chardonnay and Rosemary's Block Chardonnay.

The purpose of this tasting was to create an engaging platform for stimulating discussion, reciprocal learning and ultimately putting Okanagan Chardonnay into a global context. The blind tasting comprised three flights designed to represent cool-climate expressions, warm-climate expressions and diverse winemaking styles. Each flight was accompanied by lively discussion moderated by renowned wine critic, Anthony Gismondi enabling participants to delve deep into the intricacies of the wines, share valuable insights and rate the wines based on the 100-point scoring system.
"A tasting like this allows us to see our wines in the context of what's being offered around the world. They will use this opportunity to explore how wines with this kind of global recognition compare to our own and, reflect on what additional trials or refinements can be considered in our own cellar " said Tony Stewart, Proprietor, Quails' Gate Winery. 
Leading Chardonnay from around the world was chosen by Master of Wine Geoff Moss based on reputation and included top producers from Chablis and Côte de Beaune in Burgundy, Margaret River, Australia and Napa Valley, USA. Although not the purpose of the tasting, Quails' Gate Chardonnays achieved scores from 90-94 and stood its own amongst the likes of France's Domaine des Comtes Lafon, Meursault 1er Cru "Les Perrières", New Zealand's Kumeu River, Mate's Vineyard Chardonnay and Penfolds Yattarna.
"It is incredibly important for us to showcase the immense potential of the vineyards and unique terroir at Quails' Gate in West Kelowna.  This benchmark tasting was conducted with the aim of understanding and classifying the diverse range of Chardonnay styles available, and specifically to identify where our own Quails' Gate Chardonnays fit into that global spectrum of iconic wines. It was easily evident to all that participated, that Quails' Gate Chardonnays can compete at the highest levels and deserve their share of the global spotlight," Jeff Del Nin, Senior Winemaker, Quails' Gate Winery.
One Quails' Gate wine was included in each of the three flights – the 2020 Stewart Family Reserve Chardonnay, the 2019 Rosemary's Block Chardonnay and the 2021 Rosemary's Block Chardonnay. Although each with their differences, the feedback was unanimous amongst the tasters – Quails' Gate wines can easily stand amongst their global peers.  
"I was really impressed with the scope of the wines they put together. Not just the big names, but the different countries, regions and different styles. They're really beautiful and intense wines, most scoring well above 90 in my books. And Quails' Gate's Chardonnays showed really well. They were always in my top two or three of the flights. To me, they just ticked all of the boxes of Chardonnay and what people are expecting from Chardonnay, not too reductive, not too oaky, but very complete and balanced wines. And superb value." David Lawrason, WineAlign.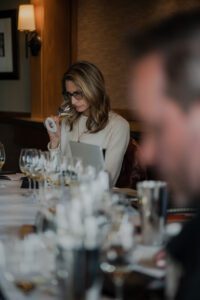 Feedback from event attendees provided valuable insights and helped identify areas for refinement while celebrating the unique attributes that distinguish the Okanagan Valley. At a more reasonable price point than most of the other wines chosen, the Quails' Gate Chardonnays were also the most affordable.
"The tasting was interesting, informative and obviously involved some stunning wines, but I think there were a lot of great takeaways. I also think the Quails' Gate wines stood up easily amongst these peers," Colina Marshall, Wine Director, Wine Folly. 
As a relatively young wine region, this experiment provided some great learning for future vintages and helped reveal what our local industry knew all along – that Okanagan Chardonnay can stand up to the best in the world.
"We bet early on Chardonnay and Pinot Noir in the Okanagan and we launched the Stewart Family Reserve Chardonnay in 1993. I personally believe that the Okanagan Valley has really come to the forefront in terms of making excellent quality Chardonnay – this classification tasting solidified that." Tony Stewart, Proprietor, Quails' Gate Winery.