At Quails' Gate, we believe great wines begin in the vineyard. Through decades of viticultural research and an unwavering dedication to quality, we have cultivated a reputation for delivering award-winning wines and we are pleased to share our latest and greatest. 
Quails' Gate Winery is thrilled to be recognized alongside some of the top wineries in Canada, acquiring 10 Gold Medals from the 2023 WineAlign National Wine Awards of Canada (NWAC).
This year's judging took place in Penticton, British Columbia in late June. The panel involves a select group of esteemed Canadian wine writers, educators, and sommeliers alongside two international judges who blindly taste and review thousands of Canadian wines from hundreds of different wineries.
Quails' Gate Winery takes great pride in our portfolio of Chardonnays. As one of the original wineries in the Okanagan, our first Chardonnay vines were planted more than 30 years ago and we have cultivated some of the oldest and most sought-after Chardonnay blocks in the region. The Estate Chardonnay is crafted to be bright, fresh, vivid and celebrated by all who drink it.
"Good aromatics here, with complexity above the mean. Full broad fleshy palate, long finish. Nice wine, satisfying." – John Szabo, 92 points
2021 Stewart Family Reserve Chardonnay – Gold Coming soon
Our flagship white wine, the Stewart Family Reserve Chardonnay is locally beloved and internationally renowned with a reputation for quality and consistency. 
"A more tightly wound style, with wood very much in the background. Will take another couple of years to fully come around I suspect. Complexity and depth should continue to develop."- John Szabo, 92 points
2021 Rosemary's Block Chardonnay – Gold Coming soon
Rosemary's Block Chardonnay is named for and dedicated to our mother Rosemary and her role in creating our family's winery. Situated on the north side of Boucherie Road at the Quails' Gate Estate in West Kelowna, Rosemary's Block vines produce some of the best Chardonnay grapes in the Okanagan. This beautifully crafted white is graceful and refined with an impressive intensity at its core.
"While still young, this medium bodied chardonnay shows a depth of pear and citrus flavors and aromas on both nose and palate. Well structured and balanced with a zip of tangy acidity and long and layered flinty, nutty finish. Needs some time to knit together and fully round out." – Janet Dorozynski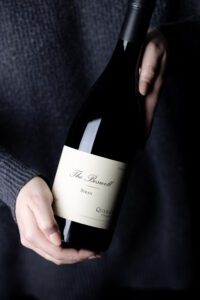 2020 Richard's Block Pinot Noir – Gold
Our father Richard Stewart was instrumental in bringing Pinot Noir to the Okanagan Valley in 1975; today it is the most widely planted red varietal at Quails' Gate. Richard's Block is named for our father and represents a special offering within our portfolio of award-winning Pinot Noirs.
"Cool, sapid struck and such sweet savour in Pinot Noir that flashes, fleshes and celebrates its style. Rich and luxe, concentrated to the max, wood a major factor and truly a showy example. Clean and pure, quite focused though it would never be accused of being light, bright and simple. Just the slightest bit of rubbery reduction eventuates to drying austerity at the finish." – Michael Godel, 92 points
The award-winning Boswell is part of our Founders' Series. Each of these wines are hand-crafted to the highest standards and available in limited quantities. The Boswell Syrah is a tribute to our mother's family name and honours the values Rosemary (Boswell) Stewart instilled in our family business.
"The Boswell is historically one of my favourite Syrahs of the Okanagan, unusual in that is the only significant Syrah from the northern Kelowna region, thanks to old vines situated on a south-facing, volcanic-soiled slope." David Lawrason, 92 points  
The NWAC is a true celebration and expression of Canadian winemaking excellence. Quails' Gate is honoured to be recognized alongside some of the finest examples of Canadian wines. Shop our award-winning portfolio today.